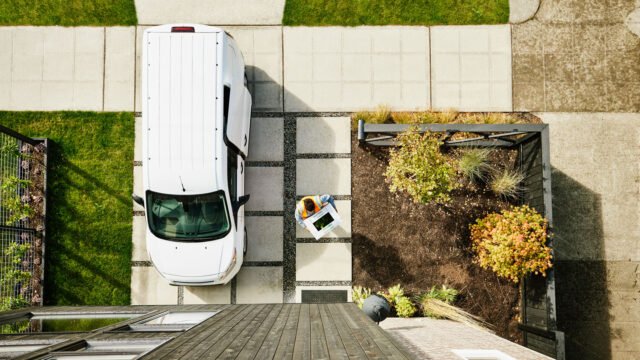 Thanks to the Internet, more packages are being delivered than ever. Whether you're talking about local food orders to massive furniture deliveries, there are billions of deliveries being made every day!
For property managers, this delivery boom means keeping track of resident packages and safeguarding them to keep residents happy — and keep them renewing their leases.
Before we explain the best package delivery system, let's go over a few factors to help you understand how online delivery is becoming so popular.
Online Deliveries: The New Normal
For younger generations like millennials or Gen Z, online deliveries are the norm — and their preferences have helped online deliveries become an irreversible fact of everyday life.
The sheer convenience of ordering online is hard to beat. Quick, one-time deliveries like food orders are a substantial part of the economy. Every year, food deliveries generate hundreds of billions of dollars in revenue in the United States alone.
Combine that with the trends that young people today are following. For example, younger generations are driving less. Compared to older generations, Gen Z doesn't drive or own cars as commonly. Instead, they prefer to use rideshare apps or public transportation to get around. And, when you can't quickly drive down to the store, you're more likely to order something online!
Another trend that bodes well for online deliveries is that younger generations increasingly prefer city life to suburbia. The lure of quick public transport and cultural and social opportunities is high. But, if there's something a city dweller wants that isn't in a nearby store, they'll be quick to order that online.
How Can Property Managers Adapt?
For property managers, more online deliveries mean a larger stream of delivery couriers entering and exiting the property.
To ensure maximum security and convenience, property managers have a lot of delivery-related questions they need to ask themselves. For example, how far into a property should a courier be allowed to go? Should a courier leave packages with a front desk, or right at a resident's doorstep?
Here, we'll run through a few package management options to help you decide which will work best.
Can the front desk handle packages?
Leaving packages with a front desk has its merits, but you might find that the disadvantages outweigh the benefits.
Your front desk staff already has their hands full with the day-to-day responsibilities of running your property. And if you manage a commercial or office property, staff members already have to deal with employee and visitor requests in addition to administrative paperwork. Residential staff members have similar duties.
Piling one more task onto staff members' plates is likely to tire them out and increase the chances of burnout.
A tailor-made package management solution
Instead of depending on your front desk, you might depend on specific hardware to help you manage packages. Some property managers are using package lockers to do this. While package lockers take some of the stress out of managing packages, they're not a perfect solution.
One of the biggest drawbacks of a package locker is its system of unchangeable lockers with predetermined sizes. What if your residents order an oddly-sized package that doesn't fit into a locker?
Then, delivery couriers are stuck guessing which locker to put their package in, wasting precious time. Even worse, a busy courier with more deliveries to make might simply leave a package in the lobby or with staff, bypassing the package locker entirely.
The best package management solution
Luckily, technological innovations simplify these questions and make dropping off deliveries and picking them up simpler for staff, couriers, and residents alike.
The most efficient package delivery solution in today's market is a smart package room with a Delivery Pass feature.
The best package rooms operate without the need for staff intervention. Instead, they empower residents to take control of their own delivery experiences by giving them the ability to text couriers a QR code. This QR code grants them entry into select doors, ensuring that drivers can't misuse their credentials and gain access to unauthorized parts of the building.
Compared to package lockers, package rooms are much easier to set up and maintain. If you have a spare, unused storage closet or room on your property, you're in business. All you have to do is set up an intercom on the outside, and residents can start using your brand-new package room!
And with the help of today's technology, package rooms are incredibly efficient. You can set up cameras and increase security by making an audit trail of every door release available to staff. Plus, with the help of integrations with your property's other smart locks and intercoms, you can add and remove residents from the package room's internal database with ease.