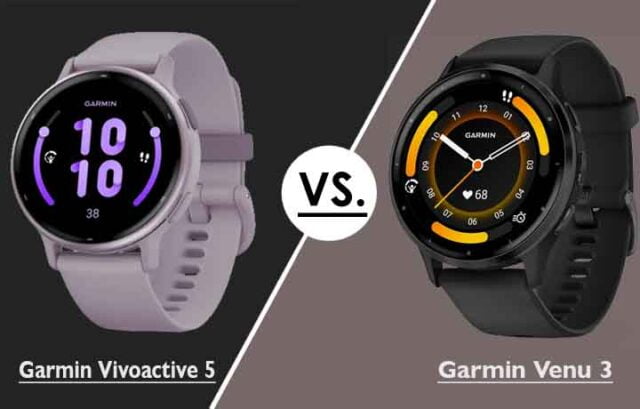 Garmin has recently unveiled the Vivoactive 5 smartwatch, which many see as a more affordable counterpart to the Venu 3. With both watches offering a plethora of features, consumers might find themselves in a dilemma when choosing between the two. Here's a comprehensive breakdown to help you make an informed decision.
Price Point
The Garmin Vivoactive 5 is priced at $299/£259, available in various colors, offering significant value.
In contrast, the Venu 3 is priced higher at $449/£449, reflecting its additional features and superior design.
Design & Build
At first glance, the Venu 3 and Vivoactive 5 might appear quite similar. However, there are subtle differences.
The Vivoactive 5 boasts an aluminum case, while the Venu 3 is crafted from stainless steel, giving it a more premium feel.
The Venu 3 is available in two sizes: 45mm (standard) and 41mm (Venu 3S). The Vivoactive 5, on the other hand, comes in a singular 42mm size.
Display & Resolution
Both watches utilize full AMOLED displays.
The Vivoactive 5 features a 1.2-inch AMOLED with a 390×390 resolution.
The Venu 3 (45mm) offers a larger 1.4-inch AMOLED with a 454×454 resolution.
Heart Rate Technology
A significant difference lies in their heart rate sensor technology. The Venu 3 incorporates the latest Garmin Elevate 5 heart rate sensor tech, initially introduced in the Fenix 7 Pro.
The Vivoactive 5 uses the older Elevate 4 sensor. While the Elevate 4 is accurate for steady runs and general health tracking, the Elevate 5 offers more reliability during high-intensity activities.
Smart Features
The Venu 3 stands out with its ability to make or receive calls from the wrist.
Both watches support Garmin Pay and access to Garmin Connect IQ, allowing users to download apps and sync Spotify playlists.
Health & Sleep Tech
Both watches share similar health features, including body battery, pulse ox, stress, menstrual tracking, and more.
The Venu 3 introduced enhanced sleep technology, which the Vivoactive 5 has adopted, making their sleep tracking capabilities nearly identical.
Battery Life
The Vivoactive 5 boasts a battery life of 11 days in smartwatch mode and 5 days with the always-on display. Its GPS tracking mode lasts 17 hours.
The Venu 3 lasts 14 days in smartwatch mode, with its GPS mode offering 20 hours.
Conclusion The Garmin Venu 3, with its superior features and design, is undoubtedly the premium choice. However, for those looking to save, the Vivoactive 5 provides many of the Venu 3's best features at a more affordable price point, making it an excellent choice for fitness enthusiasts.
Key Takeaways:
The Venu 3 offers a more premium build with its stainless steel design.
Both watches have full AMOLED displays, but the Venu 3 has a higher resolution.
The Venu 3 uses the latest heart rate sensor technology, offering more accuracy during high-intensity workouts.
Both watches support Garmin Pay and offer similar health tracking features.
The Vivoactive 5 provides significant value for its price, making it a strong contender against the Venu 3.