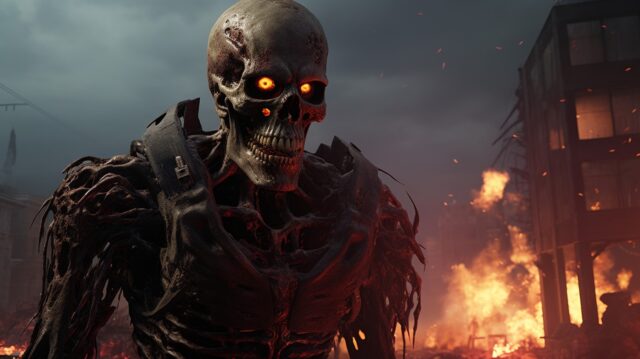 The much-anticipated Halloween-themed event, "The Haunting," is set to return to the Call of Duty universe, taking over both Warzone and Modern Warfare 2. As the chilling winds of October approach, players can expect a blend of horror, action, and surprises.
Event Start Date
The Haunting event will commence on Tuesday, October 17, marking the midpoint of Season 6. This date aligns with the next significant content drop, and the event will continue until the season's conclusion.
Skins, Rewards, and Crossovers
While the full list of Halloween-themed rewards remains under wraps, some exciting details have emerged:
A part of the Doom collaboration will go live during the event, introducing the Doom Chainsaw melee weapon.
Players can already access the Zombie Ghost operator skin.
Daily login rewards will be available throughout the event, with more specifics to be announced.
New Modes and Challenges
Operation Nightmare: Set in a nighttime version of Al Mazrah, players will combat anomalies scattered across the Battle Royale map. The primary objective is to hunt down "most wanted" targets while evading demonic entities.
Zombie Takeover: Zombies will infest Vondel, challenging players to uncover the undead outbreak's origin.
Returning Modes
Zombie Royale: A fan favorite, players transform into zombies upon being downed. The objective shifts to eliminating other players and collecting special syringes to revert to human form.
Vondead Lockdown: A recent addition, this mode combines elements of hardpoint and Battle Royale.
Modern Warfare 2 Map Reskins
Modern Warfare 2 isn't left behind in the spooky celebrations. Maps like El Asilo and Embassy will undergo Halloween makeovers. El Asilo will feature a Dia de Muertos theme, while Embassy will be amidst a zombie outbreak. Additionally, four game modes will receive thematic updates: Haunting Domination, Haunting Kill Confirmed, Haunting Drop Zone (Drop Scares), and Haunting Infected.
Key Takeaways
The Haunting event begins on October 17.
New and returning game modes will be available.
Modern Warfare 2 maps will receive Halloween-themed reskins.
Collaboration with Doom introduces a new melee weapon.
Daily login rewards will be a part of the event.
Stay tuned for more updates and details as they emerge from the shadows in the coming weeks.