Some would argue it was Apple's worst kept secret ever – the iPad Pro, recently announced by the Cupertino giant at its September event. It seems even Apple could not deny the power of convertibles in the mainstream market. But does the new iPad Pro really justify what it has to offer, or will it be a bitter failure just like the original Surface tablets? To come to a conclusion, we better ponder over a few facts.
The iPad Pro is definitely Apple's response to Microsoft's Surface range of hybrid tablets, which is rather obvious given the fact that the new device sports a large notebook sized display along with support for an optional Smart Keyboard and stylus dubbed as Apple Pencil.
However, the iPad Pro is much like the original Surface tablet as it does not run a full desktop operating system. Though, Apple insisted at launch that the new iPad Pro will meet all your productivity needs, and claimed it to be a MacBook replacement. Now that sounds rather naive at this point from a company that once said you'll never need a large screen or a stylus.
For now, it seems the iPad Pro will not be able to provide a decent hybrid experience as it is completely built on the iOS platform, which apparently is primarily a mobile operating system. This is exactly what happened to Microsoft with the original Surface range (Surface RT and Surface 2), which was limited in its ability to run desktop apps and was especially touch-based. It was a rather painful process for the Redmond giant who seemed a bit stubborn to ignore the early criticisms of Windows 8 which eventually saw its Surface range being a failure.
With their inability to run desktop apps, it slowly led to their demise as customers and manufacturers were not really showing any amount of interest in the whole concept. Though the company learnt from its past mistakes with the forthcoming Surface Pro range, which laid down the foundations of a complete hybrid device giving us that slick hybrid user experience we had long been waiting for in any mode.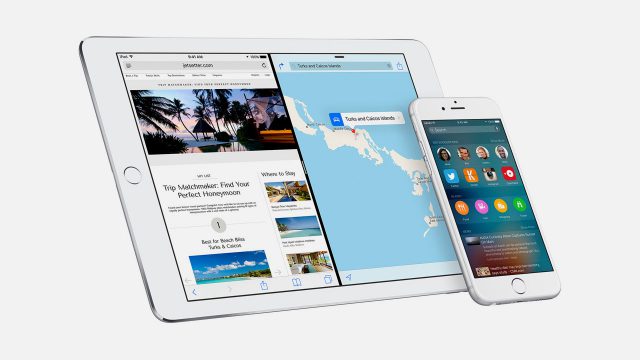 And this is exactly what's lacking in the new iPad Pro, it's stuck with iOS, which is fundamentally a touch-based operating system, and could be limited in its ability to give that slick hybrid experience as it runs mobile apps only. It might still be early days to come to a conclusion whether the device will be a success or not, as iOS 9 has support for multitasking and has been backed by Microsoft Office and Adobe's apps. However, despite that, users will still feel constricted by not being able to run the full OS X, no support for USB/USB Type-C ports, and the inability to use the number of apps available on desktop OS. Instead, Mac users would have clearly preferred a Surface Pro-style OS X tablet.
Apple iPhone 6 and iPhone 6S Plus – Release date, Price & Pre-order, Specs & features
What are your thoughts about the new iPad Pro? Will it see the same fate as the original Surface tablets from Microsoft? Do let us know in the comments section below.